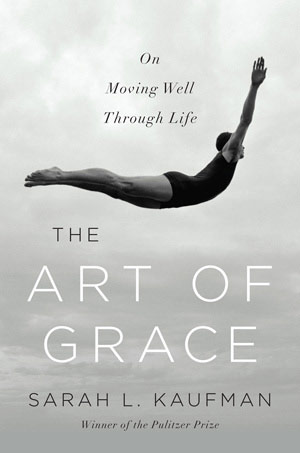 "Kaufman's thoughts on the rare virtue of grace are both inspiring and uplifting. Humanity at its finest is merely what she is offering here, and we could all use a bit more of that in our lives."

— Elizabeth Gilbert, author of Eat, Pray, Love
and The Signature of All Things

"Part love letter, part cultural commentary, and wholly a joyous exploration of the essential trait of grace, from ancient Greece to the golden age of Hollywood."

—Arianna Huffington, Editor-In-Chief of The Huffington Post
and author of Thrive

"Sarah Kaufman has nailed it: she has detected precisely what it is that has changed us so for the worse …Her book is itself most graceful, and ever knowing."

—Frank Deford, author of Alex: A Child
NOW IN PAPERBACK & AUDIO CD!
ORDER
Amazon • B&N • IndieBound • BAM • Google Play
NEWS
The Art of Grace is a Barnes & Noble Discover Great New Writers Selection!
Sarah Kaufman is available for talks and workshops. To contact her for your event, please click here.
The nationally syndicated "On Point With Tom Ashbrook" devotes an hour-long program to "this beautiful book," The Art of Grace. Listen here.
EXCERPT
"We're distracted and we let the door slam on the person behind us, we trip over curbs as we're texting, we're…sedentary, weighed down, collapsed over the laptop…We've forgotten how to move through life with grace."
(FROM THE ART OF GRACE)