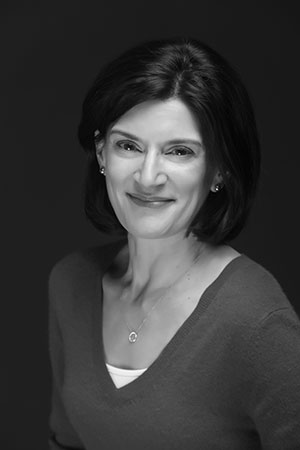 SARAH L. KAUFMAN is a Pulitzer Prize-winning critic, author, journalist and educator. For more than 30 years, she has focused on the union of art and everyday living. As the chief dance critic and senior arts writer of the Washington Post from 1996-2022, she wrote about the performing arts, pop culture, sports, science and personal expression.
She is the author of the award-winning nonfiction book The Art of Grace (W.W. Norton), and a contributing author of Balanchine: Celebrating a Life in Dance (Tide-Mark Press).
Sarah teaches in the Writing Program of Harvard University's Extension School and is at work on her next book. She was a Nieman Fellow, class of 2021, at Harvard and the McGraw Professor of Writing at Princeton University in 2018 as well as a visiting lecturer in the Humanities Council. Sarah is a faculty member of the National Critics Institute at the Eugene O'Neill Theater Center, and a co-founder and director of the Institute for Dance Advocacy and Journalism at the Kennedy Center, which trained college students in critical writing. A former French-American Foundation Journalism Fellow at Le Figaro in Paris, and U.S. Senate Page, Sarah attended the University of Maryland and earned her MSJ from Northwestern University. Her first book, THE ART OF GRACE, was a Washington Post Notable Book of 2015 and a Barnes & Noble Discover Great New Writers Award Winner.
Sarah's work has been featured on national radio and television, including NBC News, CNBC, The PBS NewsHour and On Point with Tom Ashbrook. She has spoken at South by Southwest and the Chautauqua Institution on programs inspired by her book and has given talks and led onstage interviews with celebrities and newsmakers for the Smithsonian, the Goethe Institut, Words on Dance, City Arts & Lectures and more. In exploring grace and movement onstage and off, she has written about the Tour de France as art, analyzed politicians' body language and examined Lady Gaga, Beyonce and other pop stars as cultural phenomena. In 2010 Sarah became the first dance critic in 35 years to win the Pulitzer Prize.
Find Sarah's essays, features and criticism for the Washington Post here.
Writing THE ART OF GRACE was an indescribable pleasure. She'd love to share it with you ~ please order it here.
Interviews with Sarah L. Kaufman
"I just write until it feels time to stop": On the website Famous Writing Routines, Sarah speaks about what inspired "The Art of Grace," recent small acts of kindness in her life, grace in social situations ~ and her advice for young writers. "Everyone was a novice once; enjoy the beginner mentality. It is precious."
"Finding and Exhibiting Grace in a Contentious Election Season:" Sarah speaks on The Kojo Nnamdi Show in Washington, DC, about the roots of grace in the ancient era, the cultural shift that took place decades ago away from grace, how it's affecting our politics and how we can incorporate grace in our lives.
Talking with Sarah Kaufman about grace: On The One You Feed podcast, Sarah speaks about her philosophy of grace as a practice that allows us to take care of ourselves and others. Also, host Eric Zimmer asks Sarah about the story behind "nipples firing!" and more.
On Untangle, the podcast of the top meditation app Meditation Studio, Sarah speaks with co-founder Patricia Karpas:

Dance Critic Sarah L. Kaufman on Why Grace Matters, StageBuddy Q&A with Jose Solis: "It's a true pleasure to dive into Kaufman's pithy prose knowing that she is taking that journey with us."
"Something Significant: Sarah Kaufman," HappyLiving.com founder Matt Gersper interviews Sarah Kaufman on the origins of her book: "Having been profoundly moved by grace all my life – physical, social and spiritual grace – I wanted to celebrate it in a fun, comprehensive and meaningful way."
"Movement With Grace": Interview in HaYidion, a publication of RAVSAK, the Jewish Community Day School Network. "Grace reminds us to take care of ourselves with love and gentleness, to maintain our soul's home ~ this amazing physical instrument that we inhabit. …Grace involves and supports the whole person, and ripples outward, enriching and nurturing the community, too."
"Treading Gracefully Online" Talking Tech With Washington Post's Sarah Kaufman: a Center for Democracy and Technology podcast on the presence of grace in the digital age.
"What are the elements of grace?" LifeTips host Byron White interviews Sarah Kaufman on Webmaster Radio FM.
"Pulitzer Prize-winning dance critic to speak at Jewish Book Festival," Florida Weekly talks to Sarah Kaufman about grace as a spiritual practice: "because it involves my whole self, my whole relationship to the world, wanting to do right, to be the best person I can be."
"Dance critic applies grace to every move," Interview in The Asheville Citizen-Times: "There's so much art all around us, so much beauty."
"The Art of Grace: a tête-à-tête with Pulitzer Prize-winning writer Sarah Kaufman about her new book," PEN/Faulkner Foundation Vice President Mary Haft interviews Sarah for The Salonniere website: "It's what we give in this life that is what's going to be remembered."
.
"The Art and Effort of Personal Grace," NPR's On Point with Tom Ashbrook interviews Sarah Kaufman on finding and seeing grace, and how to bring it into our own lives. With guest host Jane Clayson.
"'The Art of Grace' offers insight into the essence of grace and how to practice it," With Sean Moncrieff of Ireland's NewsTalk radio.
"Finding grace, from Barack Obama to Cary Grant to the NFL," Religion News Service interview with Sarah Kaufman and discussion of THE ART OF GRACE, "a book with a message, delivered with calm command."
"Retrieving the Lost Art of Grace," Australia's ABC Radio Network; Sarah Kaufman discusses her book & former President Jimmy Carter's grace on "Counterpoint" with Amanda Vanstone
"'Amazing Grace,' A Song of Suffering to Pull Us Together," PBS NewsHour, July 3, 2015

"Sarah Kaufman: Waiting for the Art to Unfold," from NEA Arts Magazine, 2014, Number 4
"We're all drawn to vulnerability. Psychologists call it the Pratfall Effect: when you fall, you stumble, you make a fool of yourself, that can be the moment that most moves people. … So in the end, failure can be inspiration."