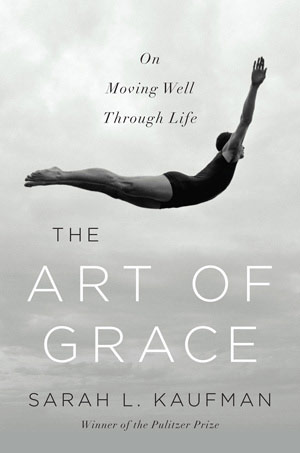 ORDER
A Pulitzer Prize–winning dance critic celebrates grace in every dimension: physical, emotional and spiritual.
Grace has long been taught as essential to civilized living. The Three Graces―goddesses of charm, beauty, and creativity―exemplify ease and harmony with one another and the world around them. But what has happened to this simple, marvelous concept of being at ease in the world?
With warmth, humor, and an ever-perceptive eye, Sarah L. Kaufman sifts the graceful from the graceless, celebrating heart-catching moments of physical elegance in sports, movies, dance, fashion, and music; rare sightings of celebrity grace; the secrets of gracious hosts; and grace found unexpectedly, in the kitchen of a high-end restaurant and among strippers in a basement bar. Kaufman's thought-provoking reflections on these physical and social acts of grace offer hope for even the clumsiest, most awkward among us.
Guided by the muse of Cary Grant (with further inspiration from Smokey Robinson, Roger Federer, Nelson Mandela, Margot Fonteyn, Amy Purdy, Beyoncé, and others), Kaufman illuminates the importance of grace in the small moments of everyday life. In The Art of Grace, she inspires us to walk taller, spend time on unnecessary kindnesses, and celebrate the grace notes in our lives and those of others.
PRAISE
"Kaufman's definition of the word makes it available to all, even the ungainly among us. 'Grace is the transference of ease from one body to another,' she writes. 'When we witness grace, we feel that ease echo in our own bodies.' Not surprisingly, Kaufman's deft way with words aligns perfectly with her subject: Smooth and controlled, she writes with authority about an impressive array of subjects…The connections Kaufman draws between seemingly unrelated fields are thoughtful and inspiring." –The Washington Post (read full review)
"In this delightfully readable book, Kaufman studies the nature of grace and offers both an appreciation of it as well as a gentle exhortation to readers to cultivate it in themselves and the world around them…Fascinating throughout, this book not only serves as a reminder of the crude gracelessness into which modern society has descended. It also offers hope that we can reform our current personal and social habits with an eye toward more civilized, harmonious living. An insightful, intelligent examination of grace, which often "seems to elude fixed meaning." – Kirkus (read full review) 
"Kaufman mines history, pop culture, sports, and her own neighborhood to share moving moments of grace in beautifully sculpted prose. …Kaufman reminds us that even in a world where most eyes are locked on smart phones, there are still people who really listen, think before they speak, and move gracefully. It's up to us to notice and emulate their techniques." – Booklist starred review (read full review) 

"Celeb Inspiration: Like charm school in written form. A Pulitzer Prize-winning dance critic enlightens us on elegance." – Cosmopolitan magazine

"As an antidote to the ill manners so prevalent in today's society, Pulitzer Prize–­winning dance critic Kaufman recalls the reader to grace—that quality that doesn't make a fuss about itself but subtly warms and transforms the atmosphere. Real-life examples, she notes, were Cary Grant and Audrey Hepburn. Kaufman uses these two actors and lesser-known individuals to instruct and instill a longing for grace. She discusses politeness and toleration as well as the virtues of self-control and nonchalance. …Kaufman's narrative is timely and sheds light on a long-lost art." – Library Journal starred review (read full review) 
"In her wide-ranging search for grace, Kaufman … carves out new ways to look at movement. Her observations of the human body (she eyes everyone from roadies to the Obamas) encourage the reader to tune into the small, everyday moments of alignment." – Publishers Weekly (read full review) 
"Delightful new book…elegant…part reflection, part instruction manual. Kaufman, always with a light touch, covers the physical, spiritual and sartorial aspects of grace. Step lightly. Act kindly. Stand up straight and consider how your actions might impact on others around you." – Harper's Bazaar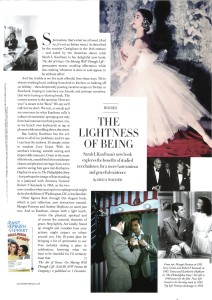 "Kaufman is well-connected in the world of popular culture, intelligent and an excellent observer of life. …The results feel like a private coaching session from Miss Manners that will make listeners a little more conscious of their actions and maybe a little more patient with the car in front of them." –Booklist (Audio version) (read full review)
"In this wonderful and enticing book, Kaufman explores grace as a way of living that is composed of moving at ease in the world, being sensitive to the needs of others, and being at peace with oneself. …[The Art of Grace] is one of the most wise, capacious, and multidimensional tributes to this virtue we've ever read." –Spirituality & Practice 2015 Award Winner (read full review)
"Dance critic Sarah Kaufman might not be surprised that a Catholic nun is promoting her book The Art of Grace for its invaluable look at the lost art of grace, manners and getting along. …The art of practicing a graceful life is built upon the same principles as the art of growing in a holy life. The author might be intrigued that said nun is also using the book to promote practical steps to self-disciplined, virtuous, prayerful and sacrificial Christ-centered lives."–Sr. Clare Hunter, Encourage & Teach, Catholic Diocese of Arlington (read full essay)
"This thoughtful meditation will stay with me for a long while. Sarah Kaufman's thoughts on the rare virtue of grace are both inspiring and uplifting. Humanity at its finest is merely what she is offering here, and we could all use a bit more of that in our lives." – Elizabeth Gilbert, author of Eat Pray Love and The Signature of All Things
"Sarah Kaufman offers an old-fashioned cure for a modern-day ailment. The remedy for our culture of coarseness is grace – forgetting ourselves, being attentive to others, and approaching our encounters with the effortlessness that comes from being at ease in the world. This is an elegant, compelling, and, yes, graceful book." — Daniel H. Pink, author of Drive and A Whole New Mind
"Part love letter, part cultural commentary, and wholly a joyous exploration of the essential trait of grace, from ancient Greece to the golden age of Hollywood." – Arianna Huffington, Editor-In-Chief of The Huffington Post and author of Thrive
"Sarah Kaufman has nailed it: she has detected precisely what it is that has changed us so for the worse …Her book is itself most graceful, and ever knowing." – Frank Deford, author of Alex: A Child
"This is a truly eloquent book on moving and communicating with eloquence.  Sarah Kaufman paints a charming, dignified portrait of a lost art." – Adam Grant, Wharton professor and author of Give and Take
"As a dance photographer, I have considered myself an expert on the art of grace. Not anymore. Sarah Kaufman has set the gold standard by which I will judge all future subjects." – Jordan Matter, photographer and author of Dancers Among Us
"Grace injects a sense of ease and harmony into what otherwise would be routine and ordinary. It's the sort of quality that we sense when it crosses our path, and Kaufman—whose career has been devoted to describing its existence—now shares some of her accumulated perceptions. The good news, she suggests, is that grace is wonderfully democratic and within everyone's reach. …Sarah Kaufman graciously leaves us with a list of 'ten tips for moving well through life.' All are doable in everyday existence." –ARTES MAGAZINE: Passionate for Fine Art, Architecture & Design (read full review)