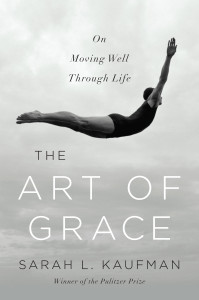 The Art of Grace: On Moving Well through Life.
Kaufman, Sarah L. (author).
Nov. 2015. 320p. Norton, hardcover, $24.95 (9780393243956). 302.
REVIEW.
First published October 15, 2015 (Booklist).
Cary Grant's eloquent shrugs. Joe DiMaggio's swing. Jennifer Lawrence's Oscar-fall recovery. Nelson Mandela's courage. They're all signs of grace. Pulitzer Prize–winner Kaufman uses her dance critic's eye to discern diverse examples of this essential quality. In earlier times, when grace was touted as a goal for civilization, the Greeks made statues celebrating the Three Graces, and George Washington studied the rules of civility. Kaufman sees grace first as the way someone moves when he or she is comfortable in his or her own skin. She notes that all actors once studied dance along with their lines, and many of the classic stars, such as James Cagney and Christopher Walken, carried this grace on to the screen. Grace is also making others feel comfortable (Eleanor Roosevelt hosting at the White House) and using self-control (Motown singers facing racism on tours). Kaufman mines history, pop culture, sports, and her own neighborhood to share moving moments of grace in beautifully sculpted prose. Grace can be learned by those willing to pay attention. Kaufman reminds us that even in a world where most eyes are locked on smart phones, there are still people who really listen, think before they speak, and move gracefully. It's up to us to notice and emulate their techniques.
— Candace Smith