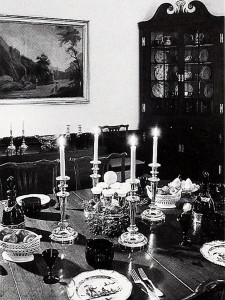 When my family sits down to Thanksgiving dinner tomorrow, we'll gather in a rather modest dining room dominated by an immodest table. It's a broad, sprawling Queen Anne reproduction with a deep mahogany finish. It belonged to my great-grandmother Mildred Holt, who at age 105 became Johnny Carson's oldest guest. I write about her and Carson in my book, The Art of Grace. Like everything else about Mimi, as we called her, the table is expansive and adaptable. With five leaves in it, it nearly extends into my living room.
Normally, we keep it in a small round, no leaves, but for special occasions, where we might seat 14 or 15, we unfold it in all its scarred, somewhat rickety glory. This is how Mimi kept it in her home in Kansas.
Mimi was born in the tiny town of Ellsworth in 1882, the youngest girl of 10 children. Her father was a Civil War veteran. She lost her mother at 10; she lived through the Dust Bowl and the Depression. That's when her banker husband lost his business. But as the very soul of self-sufficiency, Mimi put her big table and small kitchen to good use. It was around that great table–which she bought on her honeymoon in 1905–that her high spirits and natural grace came into full flower. Starting in the 1930s, when money was tight, Mimi supported her family by taking in boarders and running a tearoom in her home, serving meals to schoolteachers and workmen in her dining room.

When a new highway diverted traffic away from Ellsworth, the town's two hotels shut down. After that, the only place you could get "a meal you could be proud of," as my mother put it, was Mimi's tea room. Mimi had a saying: "I'll never eat a meal alone." By all accounts she never did. For her, hospitality was a pleasure. She really liked people, and she busied herself every day feeding them. (Her specialty was chicken, fried or scalloped; it started at the chopping block in her back yard. Mimi was unerring with an ax.)
I adored Mimi. I'll always remember her as slightly stooped and soft, with a quick step, thick, wavy gray hair and bright eyes. She was the most cheerful person I've ever known, and the amazing thing is, I was fortunate to know her into my 20s. After she died, my mother discovered diaries that Mimi had kept for years and years. They were full of recipes, notes on what she'd cooked, what card games she'd played, and with whom. They weren't terribly revealing, except for this: Mimi focused on what makes life good. Food. Companionship. Enjoyment.
She worked hard, wrote letters, entertained. And she lived to be 108–three years beyond her moment of fame with Carson, when she drank a highball on his set and kept him laughing with her chipper comebacks. I think the secret to Mimi's long life was in those diaries, their simple, consistent emphasis on human connection. I like to think that some of Mimi's grace–especially her upbeat outlook on life and her irrepressible warmth–lives on as we pull up to her table.
Read more about Mimi here, in an excerpt from THE ART OF GRACE.