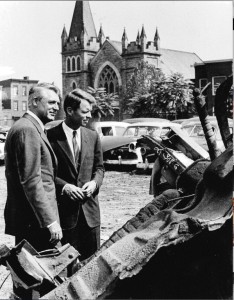 A beautiful spread in the British Harper's Bazaar about THE ART OF GRACE is very dear to me, and not only for its wonderfully kind descriptions ("delightful," "elegant," "always with a light touch…" oh, I could go on!). The writer, Literary Editor Erica Wagner, also takes note of one of the photos in the book, and she highlights its meaning.
It happens to be one of my favorite photos of the book, depicting the actor Cary Grant and Attorney General Robert F. Kennedy standing together in an impound lot. In her review, Wagner notes Grant's "considerate charm and physical carriage," and also this extra dimension of his caring nature: "Sure, we're used to seeing him staring into Katharine Hepburn's eyes in 'The Philadelphia Story'–but perhaps the image of him standing in a junkyard with Attorney General Robert F. Kennedy in 1963, as the two men consider what turning it into a playground might do for the children of Washington, DC, is less familiar."
I found the photo in question hidden in the archives at The Washington Post, unseen for decades, its edges curling, and my heart gave a little leap, for it perfectly illustrates an altogether different, off-screen view of Grant. It underscores why the debonair actor is a guiding spirit in my book.
The Harper's review (please click on it to enlarge):