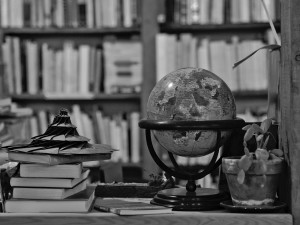 To prepare for upcoming book talks (check my list of events here), I've been going to author events around town. I have approached them soberly, as research. Then I saw Joyce Carol Oates at Politics and Prose, a beloved independent bookstore, and I found the inspiration I craved.
Oates, 77, wasn't perfectly polished. She wasn't excruciatingly prepared. She was simply at ease in sharing her work with us. She read from notes, and from her new memoir, "The Lost Landscape: A Writer's Coming of Age." And she was absolutely charming, human, funny and, yes, graceful.
The first thing she did, in fact, was not talk about herself. Instead, she complimented her audience in advance on the intelligent questions she knew we would have for her at the end of her reading, "and I can't wait to hear them," she said, in a kindly, almost shy voice, and you believed her. She seemed utterly sincere in intimating that the minor business of her  book was just a bit of housekeeping to get through before addressing the more fascinating topic of us.
Apparently, she's not only graceful in front of a crowd. The young woman who introduced her noted that Oates, who has made more than a dozen appearances at the bookstore, was "always so kind to the staff." What a lovely–and unexpected–comment to make when presenting a literary celebrity, or anyone, for that matter.
In the memoir excerpt that Oates read, she detailed her young appetite for Mad magazine and horror comic books like Tales From the Crypt, which gave my heart a little jolt: that's my own story, I thought, recalling summer days poring over the same material. She also read about her early passion for knitting, though her funny-shaped sweaters "didn't really have a natural ending." She recounted a distaste for Bible camp, and drew hearty laughs when she noted that "one of the nice things about being an adult is you don't have to go to camp." As she spoke, she gently swirled a hand through the air, as if brushing away dust motes.
Not all of her memoir is whimsical. It contains episodes of abuse and other traumas. But in referring to these darker passages, Oates reminded us of something essential. Reading from the Afterword of her book, she concluded that without having lived the misery described on some of the previous pages, "I would feel that my life was less complete; most importantly, my life as a writer, for whom the most crucial quality of personality is sympathy.
"Indeed, to revise Henry James: 'Three things in human life are important. The first is to have sympathy; the second is to have sympathy; and the third is to have sympathy.'"
Sympathy, indeed, is what you feel from Oates' writing and, most especially, from her presence, which was all about humility, generosity and understanding.
I can't wait to read her book.
photo credit: Alvaro Remesal Royo/Flickr Photo Sharing